Sign Language Interpretation Services
The INS Group offers the following national and state certified professional sign language interpreters services to government, corporate and nonprofit sectors:
American Sign Language Interpreting services 
Remote and on-site interpreting 
Video remote interpreters (VRI)
The INS Group adheres to the Registry for Interpreters of the Deaf Code of Professional Conduct and we are HIPAA compliant. The INS Group provides highly motivated interpreters who can tailor services to meet specific client needs. We are committed to providing qualified and certified sign language interpreters or the preferred language mode of the Deaf or hard of hearing person.  Our professional interpreters have experience working in a variety of settings including small and large group meetings and one-on-one interactions. Our service methodology includes gathering information to assess the specific needs and identify qualified subject matter experts. We can fulfill requests for legal, medical, educational, and financial terminology that require specialized expertise. Our range of capabilities is illustrated by our success working with clients such as The Body Shop for a corporate retreat and Raleigh Neurology for patient visits. The INS Group has a true understanding of the deaf community's cultural and communication needs. We adhere to confidentiality to the highest degree.
Loved how the interpreters rolled their sleeves and worked around what was presented during our two-day top leader's retreat. Kudos to all interpreters and I'd definitely use them again if I'm in the area! ~ Roberta M.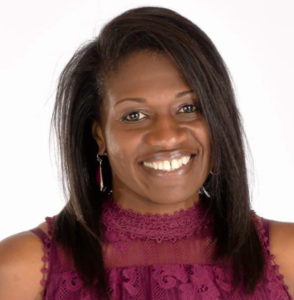 Valerie McMillan, MA, serves as The INS Group's Sign Language Interpretation Lead and Project Manager.  Valerie has been a professional Sign Language Interpreter for close to 25 years. She holds a National Certification and The State of North Carolina Full License.
"My calling to this work started as a young child and I am fulfilling my destiny. The work I provide for the Deaf, DeafBlind, and hard of hearing communities is not a job, it is my love and passion. I am committed to ensuring that individuals within these communities have excellent and equal access to communication."
Contact The INS Group to learn more about our sign interpretation services for your company or organization.