Subscribe Today
Get innovative nonprofit solutions delivered directly to your inbox via monthly blog posts and our quarterly newsletter.

Top Tips to Increase Engagement Through Email Marketing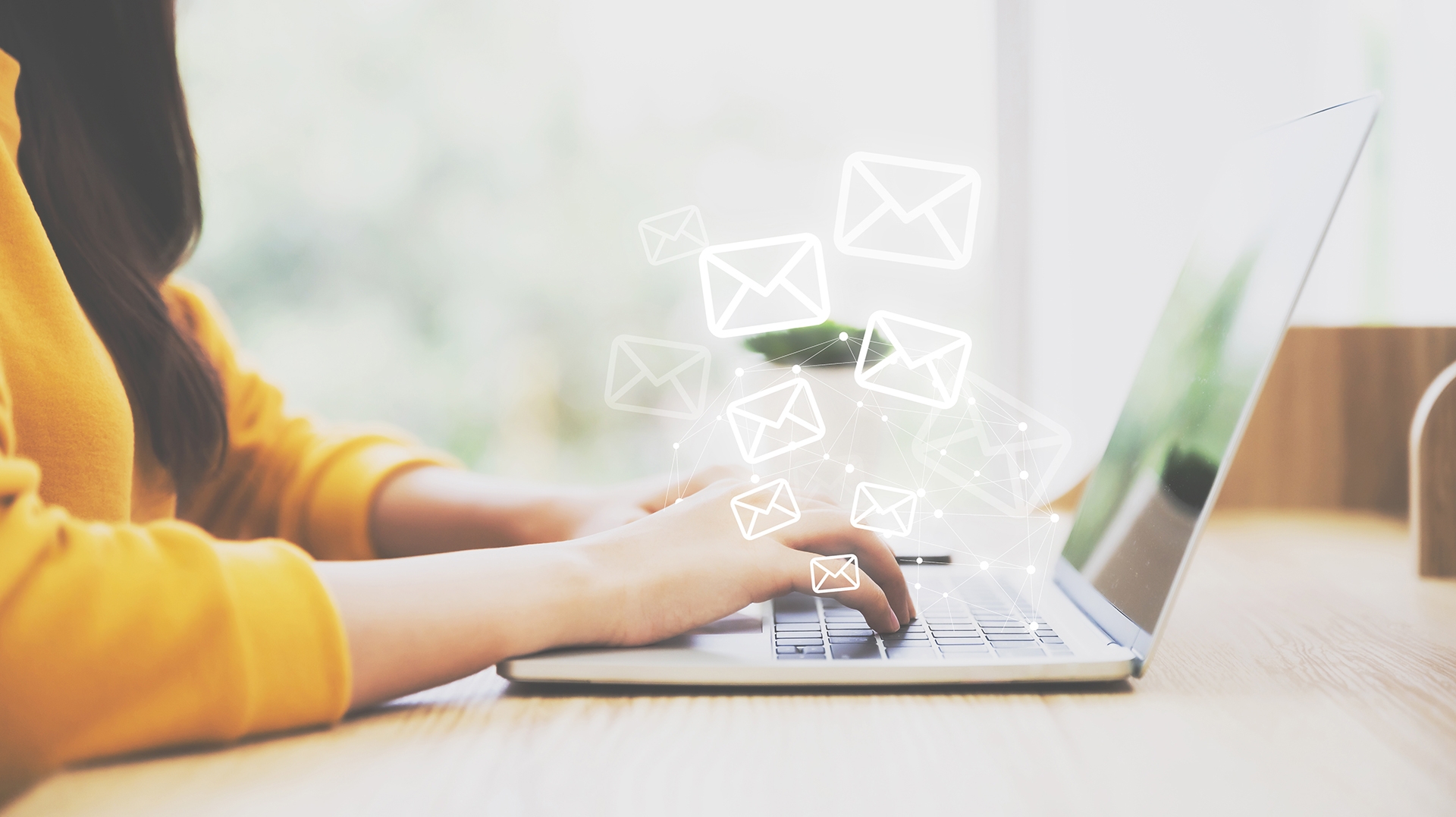 For most of us, emails are an everyday part of life. For nonprofits, sending emails is a necessity. For example, in the 2021 Nonprofit Communications Trends Report, 88% of nonprofits surveyed listed email communication as "absolutely essential" or "very important," higher than any other communication channel.
However, the same report found that only a small percentage of surveyed nonprofits use email best practices to increase engagement. Keep reading to learn more about different best practices and how you can implement them for your nonprofit.
Automate your emails
Email automation is an easy way to engage subscribers while saving time and resources. For example, many email marketing platforms like Constant Contact and MailChimp allow you to create a template in advance and automatically send your email once an action is triggered, such as someone subscribing to your email list.
Tip: Create a welcome email
Research by Experian Marketing Services has shown open rates for welcome emails almost double compared to other email sends. Welcome emails make people feel connected to your organization while providing vital information for engagement. They also serve as a launching pad, letting people know how they can get involved or support your nonprofit. Add any relevant call to action (CTA) items so new subscribers can follow you on social media, learn about current fundraising campaigns or events, or become a volunteer.
You can also automate more than welcome emails. For example, Constant Contact has templates to celebrate birthdays and anniversaries or even trigger an email to send when someone clicks a specific link.
Scrub your contact list
In the previous year, the Nonprofit Communications Trends Report found a large percentage of nonprofits keep sending emails to unengaged subscribers. The timeframe varies, but typically unengaged subscribers are those who haven't opened an email in the last three to six months. Unengaged subscribers may be unengaged due to a lack of interest, emails are going into spam folders, or an email is no longer in use.
While unengaged subscribers may not seem like an issue, continuously sending emails to unengaged subscribers can be costly if you pay for your email service by contact list size. It also makes it more likely that your messages will end up in spam folders with other contacts due to a high bounce rate and decreased deliverability overall.
The tips below may seem counterintuitive if you're looking solely at your total number of contacts since you'll be deleting accounts. Still, this ensures you're engaging with people who want to be engaged with, increasing your open rate, and decreasing the chance that your emails end up in spam folders.
Tip: Clean out your list
First, it's essential to clean out the contacts that aren't receiving your emails because their email addresses are no longer active or are marked as a particular type of bounced email. The specific terms may depend on your email marketing platform. For instance, Constant Contact marks these email addresses as "undeliverable, blocked, or suspended," while MailChimp uses "hard bounce" to let you know if an email doesn't exist or a subscriber has blocked your correspondence.
Your email marketing platform will also have an option to segment these contacts out and delete them from your list. Take a deep breath and click delete!

Tip: Run a re-engagement campaign
What can you do about those subscribers who are receiving your emails but not opening them or engaging with them by clicking on links or calls to action (CTA)? Use the same segmentation tool to find those non-openers and send them an email to attempt re-engagement. This article from Classy.org provides more tips on re-engaging donors through email.
If your non-openers still aren't opening emails after two or three re-engagement emails, take another deep breath and delete them from your list.
Tip: Make it easy to subscribe
Now that you have a clean list, you can focus on growing it by adding new contacts. To do this, it should be easy for someone to subscribe to your email list. Make a "subscribe" button, section, or pop-up stand out on your homepage and include links to your subscription form on social media and in your email signature.
Here is an example of a pop-up directing people to subscribe to the City of Durham email newsletter: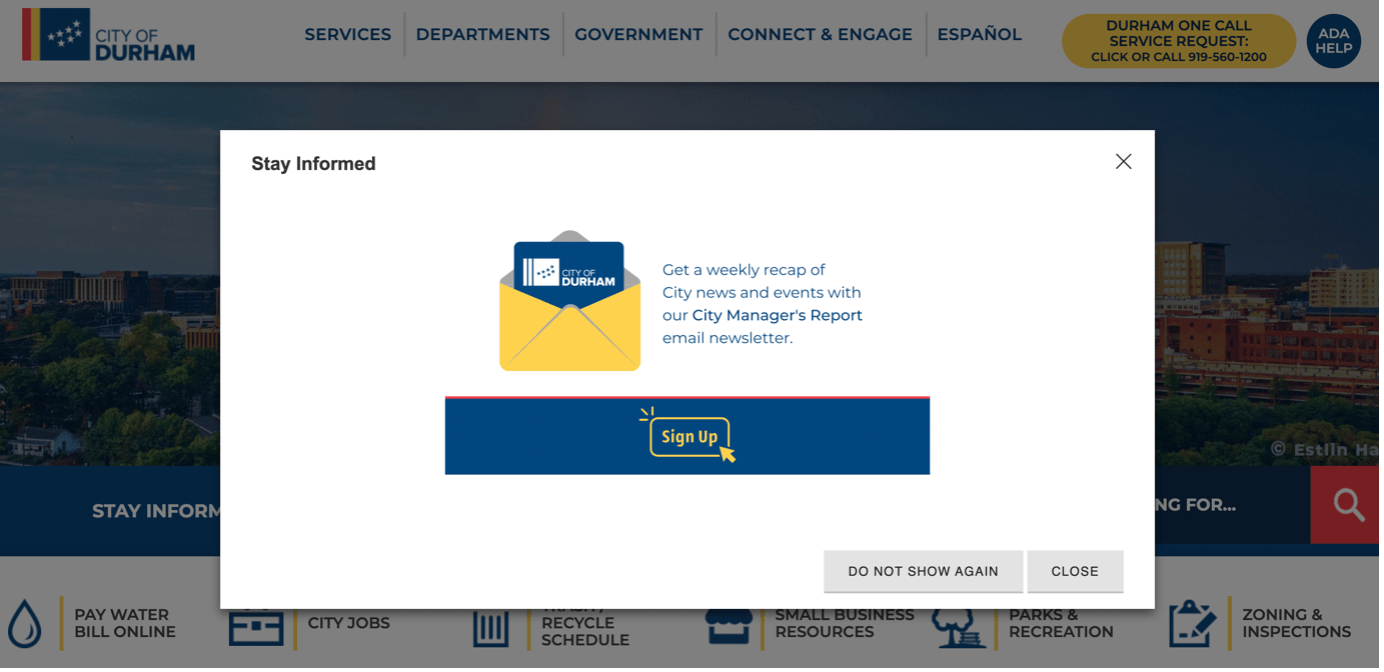 Make your emails stand out by personalizing them
Think about the emails you get from different companies, organizations, and other nonprofits. What makes you open the email? What makes you keep reading? What makes you click on an article or want to get involved? One proven way is through different types of personalization.
According to a report from Experian Marketing Services, "personalized promotional emails were shown to lift transaction rates and revenue per email six times higher than non-personalized emails."
Tip: Personalize your subject lines and opener
In this case, personalization means addressing the email to the sender in the subject line and your email opener. You'll need a subscriber's first name for this, so make sure your subscription form includes this field.
Tip: Personalize content
Email content can be personalized by letting your subscribers pick what type of content they would like to receive. Think about the types of email you typically send out – call for donations, call for volunteers, newsletters, upcoming events – and add them as options to your subscription form. On the back end, this puts subscribers into segmented contact lists you can use to send relevant content instead of content people aren't interested in receiving.
Check out the example from nonprofit resource Blue Avocado, where subscribers can select their list preferences when signing up for their email publications: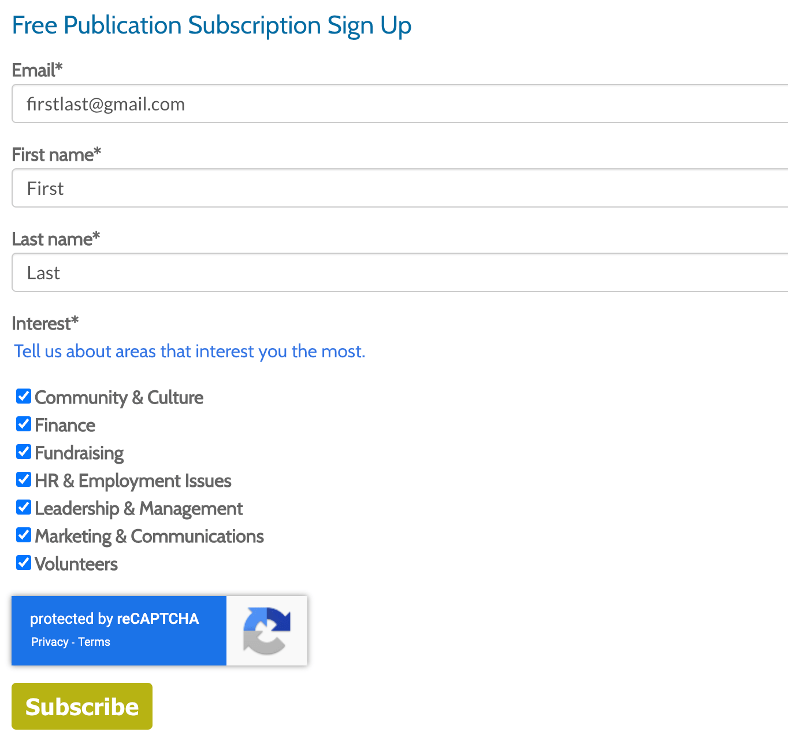 Use metrics to your advantage
Email metrics can provide insight into your audience and what's working or not working with your emails. The most common metrics to keep an eye on include open rate and click-through rate (CTR). Still, additional metrics like desktop versus mobile open percentage and bounce rate also provide useful information.
Tip: Learn from performance metrics
Performance metrics like CTR can inform you about what people are engaging with most in your emails. For example, a report may show more people were interested in a personal story on your blog versus a general organizational update based on the number of clicks. This insight can help tailor your content in the future to get the most engagement.
The INS Group has learned from metrics using the
"heat map" tool in Constant Contact. In the first image, the heat map, or purple circle, shows our audience is clicking on the story image versus the CTA button. The second image shows that more people are drawn to our LinkedIn versus other social media. Both insights inform us about our audience…and reminds us to always link photos in our emails!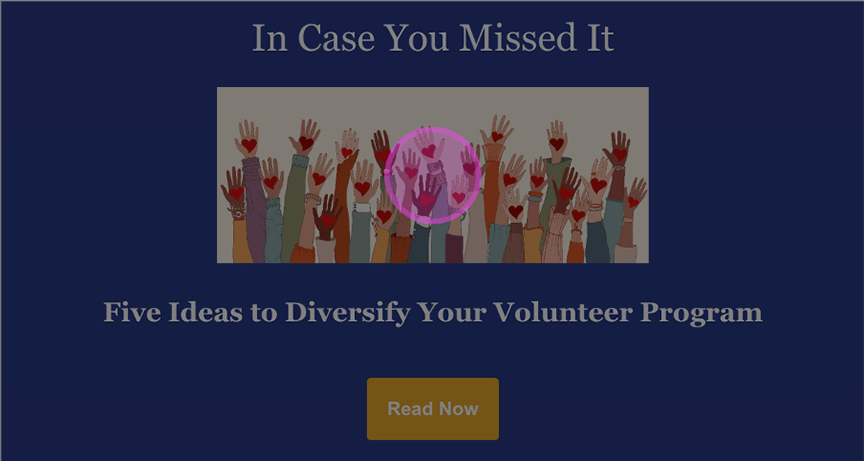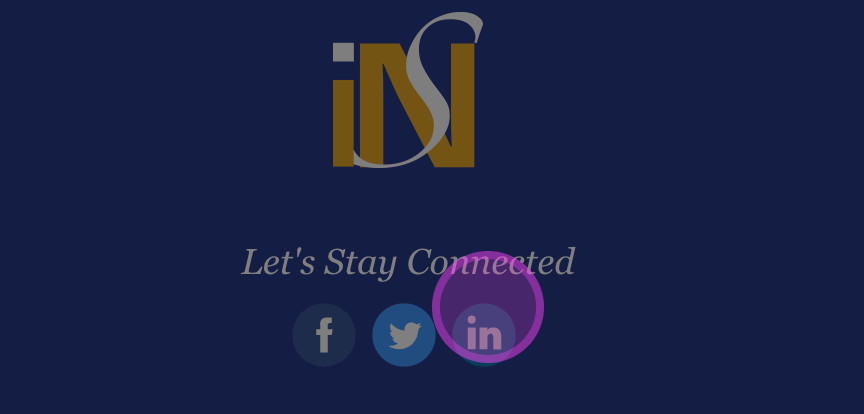 Tip: Don't be afraid to experiment
Research shows the best time to send emails is Tuesday at 10 am. However, it's best if you determine what time and frequency work best for your audience. Try sending emails at different times of the day to see when people are opening and engaging with your emails. Once you find that sweet spot, you can schedule your emails to send consistently at that time.
Tip: Do what makes sense for your nonprofit
Like the tip above, you should ultimately do what makes sense for your organization and audience. For example, many reports and articles suggest optimizing emails for mobile viewing since mobile usage overall is increasing. However, 97% of The INS Group's contacts open emails on a desktop, so mobile optimization isn't a current priority for us.
Does your organization need help with implementing and executing effective communication practices?
Contact The INS Group
today to learn how we can help!