Subscribe Today
Get innovative nonprofit solutions delivered directly to your inbox via monthly blog posts and our quarterly newsletter.

Mission-Focused and Business-Minded: The Best of Both Worlds for Nonprofit Management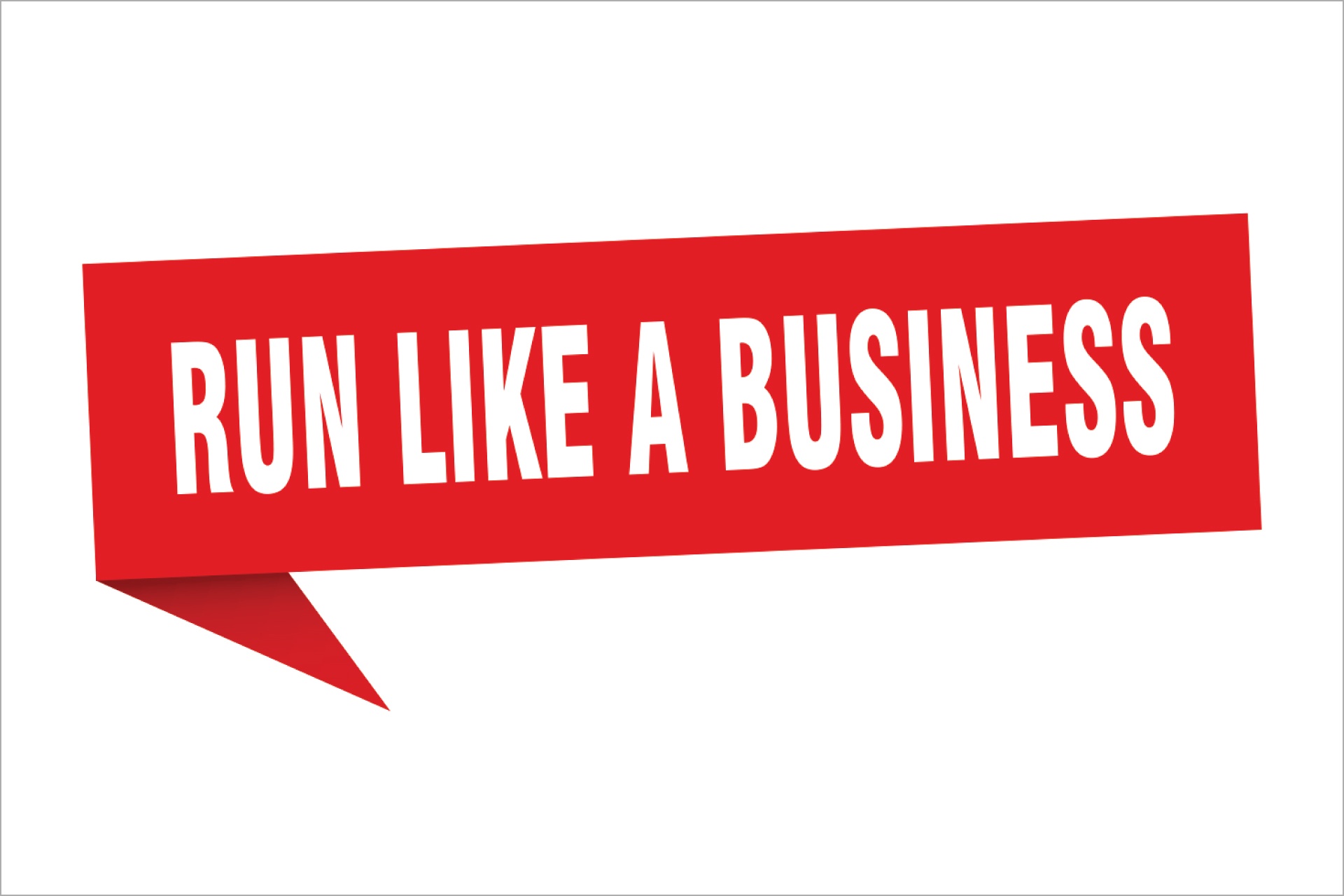 Do you think of your nonprofit like a business? Or does the word "business" conjure notions of profit, a concept that seems irrelevant to the goals of your organization?
While people start, work for, or serve on the board of a nonprofit because they are dedicated to a particular cause or mission, thinking of your nonprofit as a business does not have to distract you from your mission. In fact, managing your nonprofit like a business can make your organization more powerful, effective, and resilient. The goal is to strike a balance between honoring the values and vision of your organization and incorporating some key for-profit business practices.
Take a step back and consider some of the benefits of a business-minded approach to running your nonprofit.
Focus on financials.
Do your team and board meetings have dedicated time for reviewing and discussing financial reports? Businesses make it a practice to regularly compile, share, and review financial data with stakeholders to inform decision making and set financial goals. Keeping comprehensive, current, and accessible financial records is a powerful tool for your organization to understand the financial picture today, learn from yesterday, and plan for tomorrow. Closely monitoring and communicating financial information with stakeholders can lead to beneficial insights. For example, employees may have ideas on reducing expenses such as going paperless, leveraging volunteer expertise for projects, and identifying organizations that provide discounts to nonprofit organizations. Even small expenses add up over time and strategic reductions with input from stakeholders will not only improve your financial situation, but also facilitate a culture that embraces financial responsibility and transparency.

Bonus: Stakeholders will feel engaged, invested, and committed to securing your financial future.
Invest in Technology.
Is your organization utilizing the latest tools to create efficiencies that maximize productivity and improve operations? Businesses understand that embracing technology is imperative to business operations. Resources are allocated to actively source and vet technology solutions to eliminate pain points in their process. Taking their approach does not have to be costly, time-consuming, or overwhelming. Start small by identifying one pain point that is creating inefficiencies in workflows. Identify a team member or a group to lead an initiative to research potential solutions. You may be surprised to find that a free solution exists. Even paid solutions are worth the investment to increase productivity, collaboration, and organization.
Bonus: Resolving pain points leads to a happier team and work environment.
Give your brand some love. 
Does your organization have a strong and recognizable brand identity? Corporations à la Nike work hard to develop and maintain a brand that is the heart of their organization and an expression of why it exists. Their brand and why inform their Unique Selling Proposition (USP) that communicates how they are unique and different from the competition. Creating a brand identity around your mission anchors your organization to its why and provides a stable foundation to build your communication and marketing strategy. The USP statement can be adapted to help your organization determine what makes you unique and incorporate it into building your brand messaging. Take the time to do a brand audit to ensure that all outreach is in alignment with your mission and brand. Is your messaging across communication channels like social media, your website, mailers, and email communications consistent? Is your "why" clear and are you leveraging your USP to stand out? If not, work with your team to establish a recognizable brand identity and understand your organization's USP. You can also conduct focus groups or surveys to understand what is working well and what needs to be improved. As businesses have shown, the time and effort are well worth it.
Bonus: Making it easy for people to understand your organization will lead to increased engagement with your organization.
Monitor the market and trends. 
Are you staying current on trends in the nonprofit world and monitoring your "market" to understand the landscape? Business leaders make time to read and research what is happening in their industry to gain insight and stay viable. They keep an eye on competitors and opportunities to collaborate with other organizations that will be mutually beneficial. Activities like conducting a competitor analysis will help you better understand market conditions and be aware of organizations that have entered or exited the market. It is also useful to identify organizations that have complementary missions for future collaboration.
Bonus: Taking a break from being so internally focused will help your team prioritize and incorporate external monitoring to facilitate innovation, partnerships, and growth.
Invest in your team.
Does your organization have a recruitment and retention strategy to attract and keep the best talent? Businesses see employees as their strongest asset that also hold the future of the organization in their hands. They develop and market a work culture that creates demand to work for their organization allowing them to build a talented and committed team. Think you cannot compete? Think again. Create a Unique Selling Proposition (USP) statement tailored for recruitment that outlines why people want to be on your team. One universal USP of nonprofits is purposeful and mission-driven work that is appealing to many candidates. Get creative with benefits like flexible scheduling options, special learning opportunities, and wellness initiatives that take a holistic approach to addressing employee needs. Promote the employee USP on your website and allow interested people to join your talent network to build a recruitment pipeline. For current team members, make time for employee recognition and appreciation to keep team morale high. A simple thank you is free and goes a long way.
Bonus: A work culture that fosters high employee morale not only positively impacts productivity it also decreases turnover which is expensive and time-consuming to address.
These strategies will help your organization adopt business principles and practices to benefit your organization. Stay tuned for more ways you can run your nonprofit like a business as you fulfill and further your mission.
Does your organization need help running your nonprofit more like a business?
Contact The INS Group
today to learn how we can help!