Subscribe Today
Get innovative nonprofit solutions delivered directly to your inbox via monthly blog posts and our quarterly newsletter.

Is Your Organization Maximizing Tech Capabilities to Support Fundraising?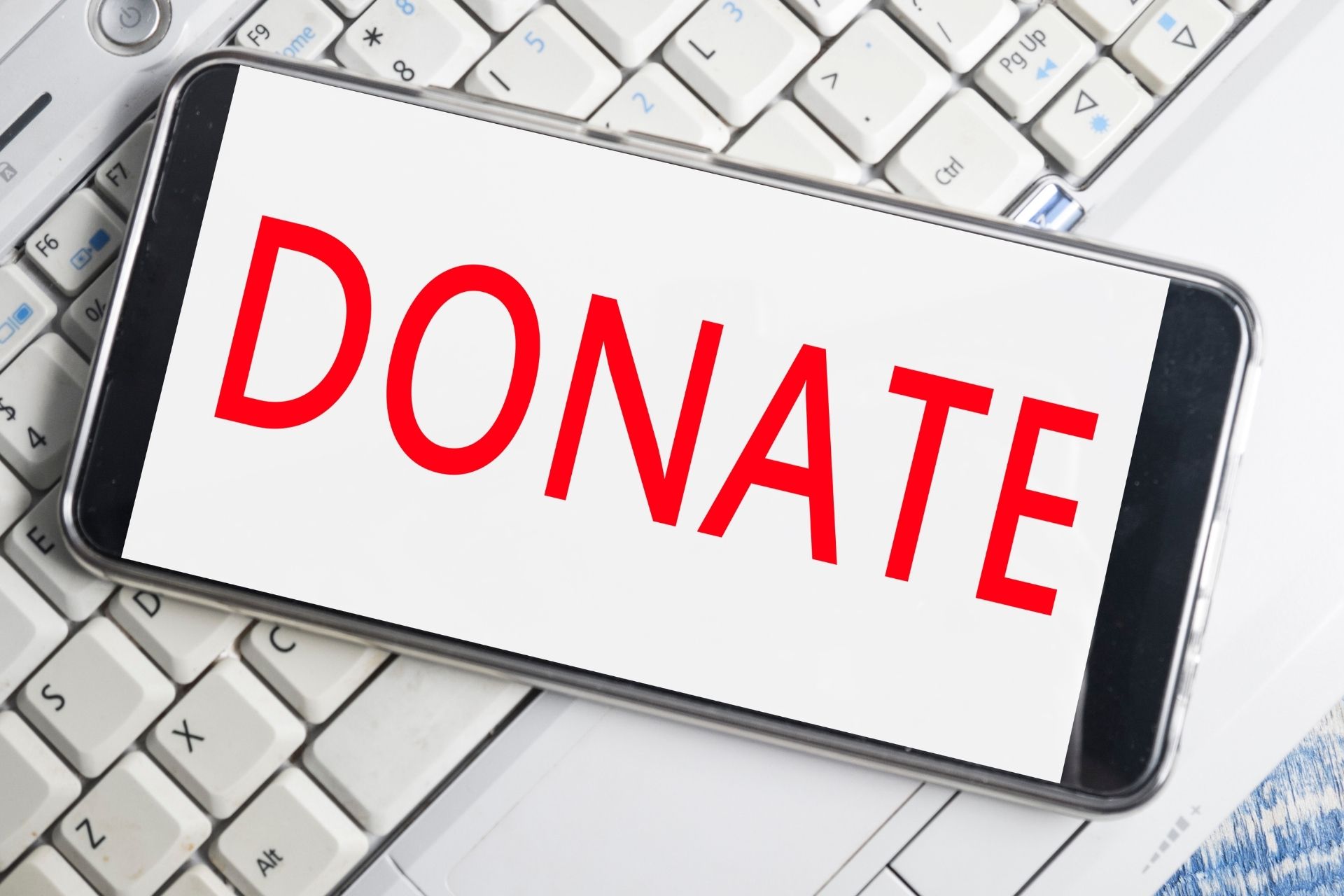 Technology, technology, technology—it is all around us and is increasingly essential to everything that we do. For nonprofit organizations, fundraising is essential to everything you do. We have recommended investing in technology across all aspects of your organization to support operations, foster collaboration, increase outreach, and enhance connectivity which all impact successful fund development. One of the aspects of technology that organizations often overlook is its ability to support innovation and incorporating new approaches. As technology advances, improving existing systems and experimenting with new ideas has become increasingly economical and user-friendly. In this post, we will explore how technology solutions can enhance your organization's fund development strategy while delighting donors.
Online Donation Processing: A Necessity in Today's World
Does your organization offer and promote online donation processing? According to a study of almost 5,000 nonprofit organizations from the Blackbaud Institute, 2020 marked the highest percentage ever for online giving with 13% of total fundraising attributed to online giving. As our world becomes increasingly virtual, 54% of donors prefer online donating and expect organizations to offer this type of donation experience. With live events canceled due to COVID, many organizations have pivoted to online fundraising events like giving days and live streaming to generate donations. From online marathons to auctions to live concerts, organizations are creatively embracing our new normal with virtual opportunities. We also encourage you to have online donation options easily accessible to donors every day. Here are important considerations to make sure your organization is capturing all donations when people are ready to donate:
Can people quickly find information and donate online through your website? Do an audit of your website to make sure information is easily discoverable and that your organization offers a way to donate online that is clearly visible to visitors.
Is your website mobile optimized? The Blackbaud Institute study found that in 2020 28% of online donations were made using mobile devices, a 19% increase from 2014.
Is it clear across all your communication channels how people can donate online? From social media to email communications to print materials having a clear call to action to accept donations is essential.
It is also important to offer customizable online giving options for people to tailor their giving to best meet their needs while supporting your organization. For example, establishing an automated recurring giving program gives donors flexibility, ease, convenience, and customization to grow in their philanthropy. Data shows that these programs are desired and successful:
For your organization, it provides a steady stream of reliable monthly income while expanding your donor base. It also helps create a community of inclusion in philanthropy by providing opportunities for those at any giving level to be valued supporters of your organization through their recurring donation.
The Poe Center, a nonprofit organization dedicated to positively impacting the lives of North Carolina youth through health education, has a donate page that clearly shows the impact of donations while providing the opportunity to be part of a monthly sustainer program at any donation amount.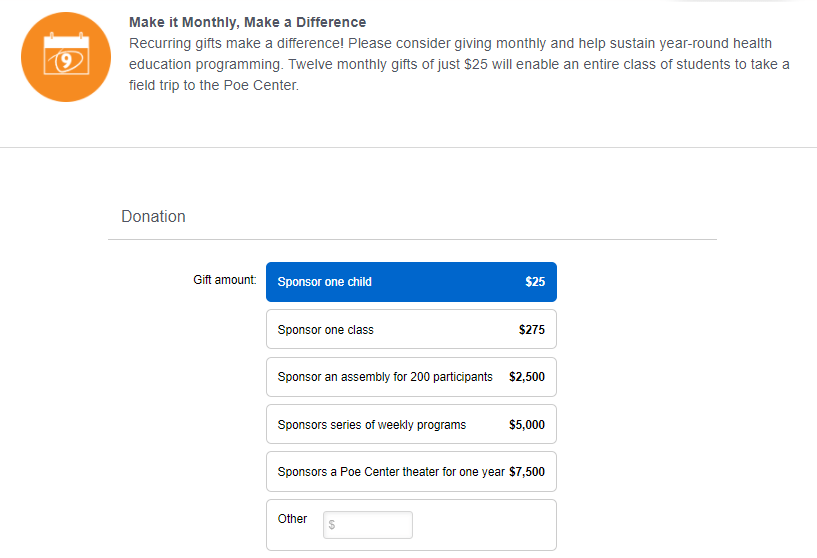 Try It: There are many platforms and solutions available to support online giving programs. Give Lively is one solution that offers forever free fundraising tech solutions that help nonprofits create online giving experiences that increase fundraising.
SMS Text: It is Okay to Text (Just Make Sure to Get Permission)
Technology is always evolving and providing new ways to explore connecting with supporters. Donor stewardship activities like email and handwritten notes are tried and true ways to show donor appreciation and drive continued engagement with your organization, but thinking beyond these common activities can make your organization stand out. One tactic that offers a different way to connect and interact is through texting. Mobile phone usage in the United States is at an all-time high with US adults spending almost three hours a day on their smartphones and 75% of consumers being comfortable receiving text messages from brands if they can opt-in first. Groups like philanthropically minded Generation Z that are anticipated to have $44 billion in buying power have been raised on technology and appreciate its use to help them achieve their giving goals. They are also seeking connections with organizations that want their help, input, and feedback to change the world. Reaching out via text meets them where they are. Besides standard options like text-to-donate which allows people to easily donate to your organization via texting, get creative by starting conversations that engage people by sharing resources about your cause, organization updates, and other ways to give back like volunteering.  Offering opportunities for people to reply to texts with questions, comments, and ideas builds a community of donors that is even more invested in your organization.
Try it: Check out this list of texting tools to get started with connecting with your stakeholders via text. A good test group is your donors engaged in monthly sustainer programs. You can start with sending them monthly text message updates to show the impact of their donation and brighten their day with a reminder of their good deeds! And do not forget to make sure you have their permission, a way to opt-out of receiving texts, and a way for them to respond.
QR Codes: Still Relevant in 2021
T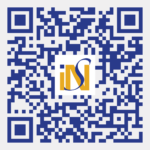 echnology has also facilitated our ability to complete fundraising activities like direct mail more efficiently and creatively. With a direct mail appeal, a challenge is capturing the motivation to donate when the recipient receives it as they must take a few steps to prepare the donation to mail or use the information provided to go online. They may decide to deal with it at a more convenient time and never follow through. The inclusion of a QR code on your mailer can prompt them to take immediate action as it utilizes one very important accessory they most likely have on hand—their mobile phone. They scan the QR code via their phone's photo app and are immediately taken to your online donations page to reply to your direct mail outreach. As QR codes become more embraced in the business sector, there is also increasing familiarity and excitement for consumers to scan the code. The good news is QR codes are easy and economical for your organization to create and seamlessly add to your direct mail pieces. QR codes can also be used in PowerPoint presentations, on business cards, and can be linked to content like surveys and videos. Our organization uses QR codes in presentations to make it easy for people to join our email list.
Try it: QR code generators are available from free to monthly subscription options. Check out this overview of options to identify the right solution to meet your organization's requirements like branding, dynamic code updating, and analytics tracking.
Data Analytics: Key to Measuring New Activities
One important benefit of technology is the ability to gather and analyze data about new initiatives. This will allow your organization to understand how impactful trying new activities is for your organization's fund development goals and help you focus on the most successful activities. For example, tracking metrics from experiments like using QR codes and texting stakeholders provides valuable information to assess performance and guide your fund development activities. We encourage you to explore how these ideas can help your organization use technology in different ways—just make sure to use a data analytics process for performance measurement!
Does your organization need help using technology to create new ways for supporters to give back?

Contact us
for a free consultation to learn how we can help!