Subscribe Today
Get innovative nonprofit solutions delivered directly to your inbox via monthly blog posts and our quarterly newsletter.

Foundations of Philanthropy: Nurturing a Resilient Donor Base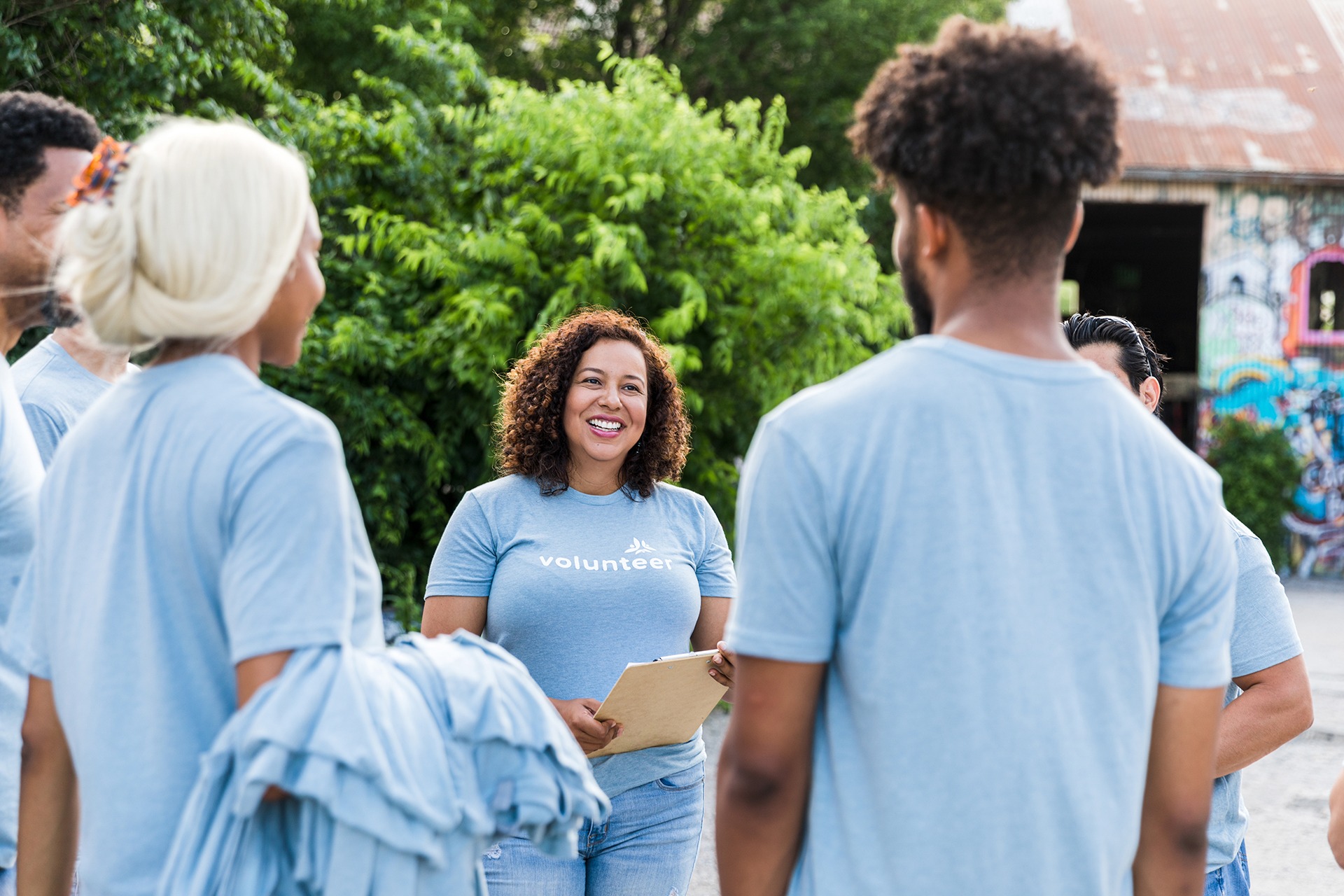 A strong donor base for nonprofits can be likened to the sturdy foundation of a thriving community. It's a collective of individuals, organizations, and supporters who are not just sources of financial contributions but passionate advocates deeply connected to the organization's mission and values.
These donors are committed for the long haul, providing consistent and sustainable support that enables the nonprofit to plan, innovate, and make a lasting impact. They aren't merely one-time contributors; they're invested partners, sharing in the vision, and dedicating their time, resources, and influence to further the cause.
However, a strong donor base is not solely measured by the size of the donations but by the strength of the relationships, trust, and mutual belief in the nonprofit's ability to effect positive change. It's a cornerstone for success, offering your nonprofit stability and the capacity to turn aspirations into tangible achievements.
In this guide, we will explore nine key strategies to help your nonprofit build a strong and loyal donor base that will support your mission for years to come.
1. Define Your Mission and Values
Building a strong donor base starts with a clear understanding of your nonprofit's mission and values. What cause do you champion, and why does it matter? Define your purpose and communicate it in a way that resonates with potential donors.
TIP: Tell stories. People are more likely to connect with your mission and values if you tell stories about the people your nonprofit helps and the impact you are making. We will explore this more in strategy #3.
2. Identify Your Target Audience
Not every donor is the same. Identify and segment your donor base based on demographics, interests, and giving capacity. Understanding your audience allows you to tailor your fundraising strategies and communications to speak directly to their needs and motivations.
TIP: A survey is a great way to start collecting data from current donors. Check out the Apra Ethics and Compliance Committee Diversity, Equity and Inclusion (DEI) Data Guide to learn more about how to collect, store, and use sensitive data while keeping DEI in mind.
3. Craft a Compelling Fundraising Story
People connect with stories, not just statistics. Create a compelling narrative that highlights the impact of your nonprofit's work by sharing stories of individuals or communities whose lives have been transformed by your organization. Doing so will make your mission relatable and emotionally resonant.
TIP: This guide from Instrumentl provides a comprehensive approach to crafting compelling narratives, featuring examples from nonprofits who excel in the art of storytelling.
4. Utilize Online Presence
In today's digital world, a strong online presence is essential for nonprofits, especially those that rely on fundraising. Double the Donation reported that in 2022, the majority of donors were inspired to give via social media (32%), email (30%), and website (17%).
Think of social media platforms, emails, and your website as ways to engage with your audience, share updates, and showcase your impact.
TIP: Choose social media platforms based on where your target donors are active. TikTok may be trendy, but it's not the right choice for nonprofits whose donors aren't already using it.

TIP: Build a user-friendly website that tells your nonprofit's story and makes it easy to donate virtually. For example, a popup appears when you visit the Susan G. Komen site showing the current impact of donations and an easy, secure way for others to donate.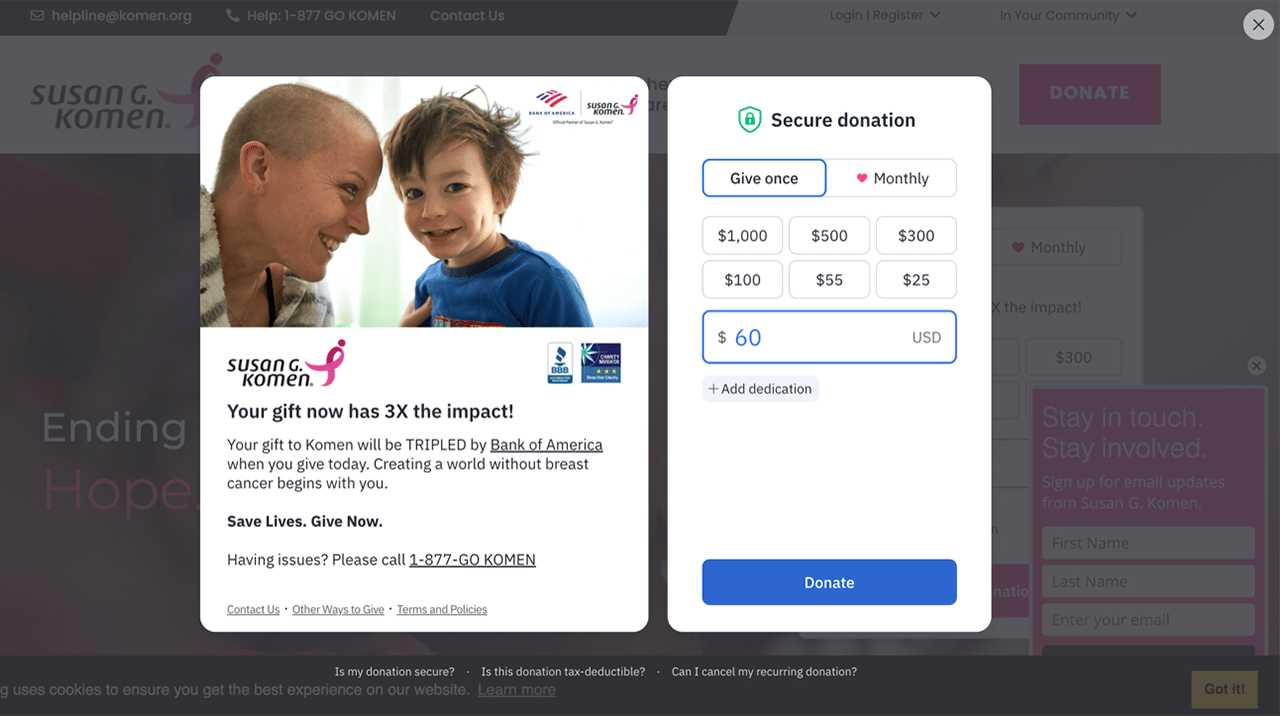 5. Personalize Your Communications
Donors appreciate personalization. According to Double the Donation, personalized emails see average open rates that are more than 82% higher than generic emails.
You can personalize emails by addressing donors by name in your communications and tailor your messages to their interests and giving history. Doing this helps show that you value their contributions as an individual and consider them integral to your mission's success.
TIP: Take your personalization one step further by segmenting your email lists.
6. Build Trust and Transparency
Trust is essential for donor relationships. To build trust, be transparent about your nonprofit's finances and how donations are used.
TIP: Share your nonprofit's financial data in publicly accessible annual reports or impact reports. This article from Donor Box explores how three nonprofits have presented their financial statements in different ways.
7. Host Engaging Fundraising Events
Fundraising events are a great way to connect with donors directly. Plan and host events that appeal to your target audience, and consider virtual events to reach a wider audience.
TIP: Encourage supporters to raise money on your behalf through peer-to-peer (P2P) fundraising. Check out this article from The INS Group to learn more about P2P fundraising and how to launch a virtual campaign.
8. Implement Donor Retention Strategies
Donor retention – a measure of how many donors continue to donate to your organization – is just as important as donor acquisition, if not more so. It is five to ten times more cost-effective to retain an existing donor than to acquire a new one. Additionally, retained donors are more likely to give larger gifts and become lifetime supporters.
TIP: View donors as partners, not just sources of funding. Cultivate long-term relationships by inviting donors to volunteer, participate in events, or provide input on your initiatives.
TIP: Consider creating a membership program or donor loyalty program to reward long-term supporters with special recognition, prizes, and unique opportunities.
9. Measure and Analyze Donor Data
Donor data, such as giving patterns, number of new donors, retention rate, and demographics, can help you make informed fundraising decisions and refine your strategies.
TIP: Use donor management software to store and track donor data in one place.
Building a strong donor base is a journey, not a destination. It requires dedication, authenticity, and a deep commitment to your mission. By defining your mission clearly, understanding your audience deeply, and engaging donors through compelling storytelling and transparent communications, your nonprofit can forge strong and lasting connections with supporters. Remember, a strong donor base is not just about fundraising; it's about building a community of advocates who share your vision and help you make a positive impact.