Subscribe Today
Get innovative nonprofit solutions delivered directly to your inbox via monthly blog posts and our quarterly newsletter.

A Deep Dive Into "The State of Global Giving by U.S. Foundations"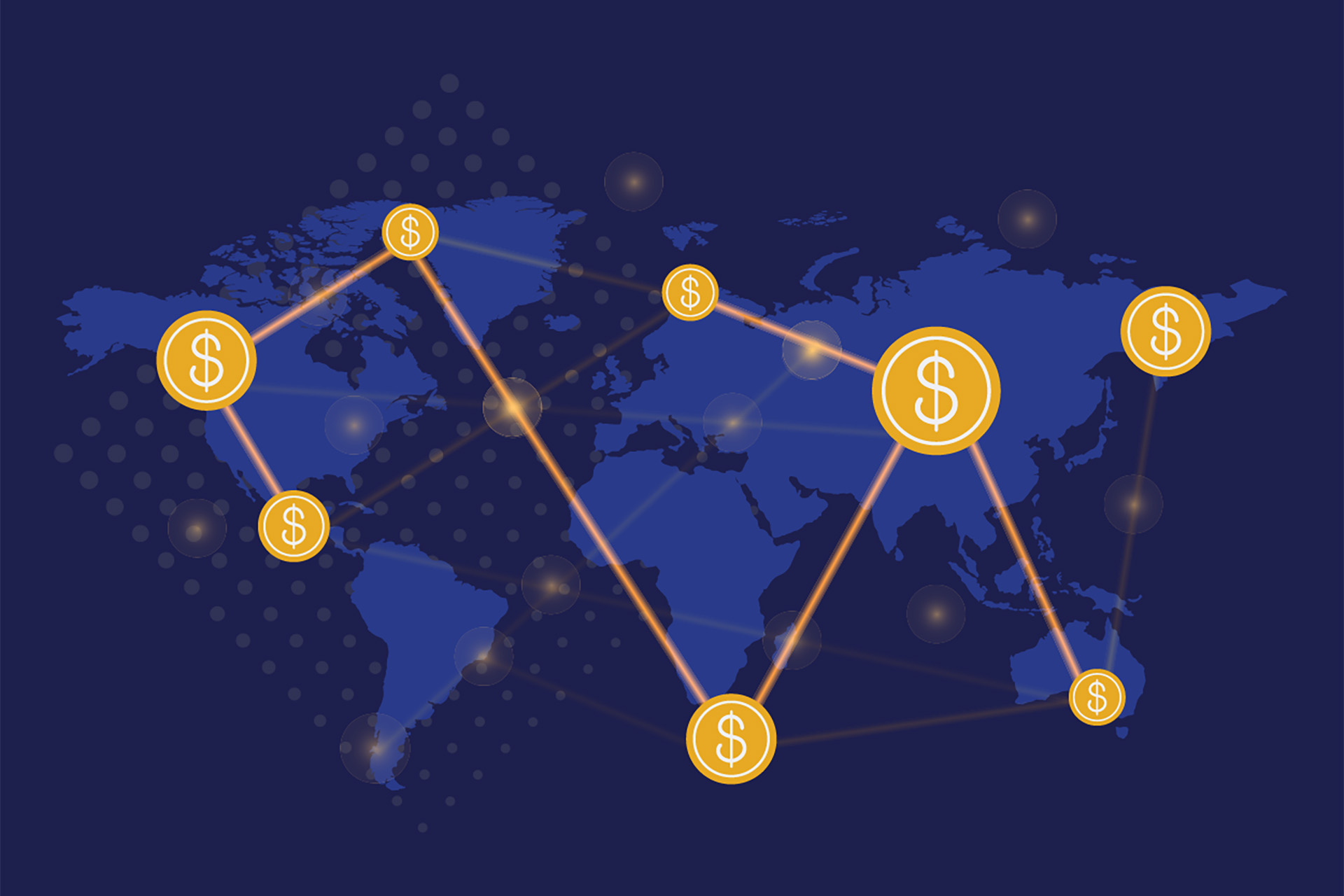 Last month, in partnership with Candid, the Council on Foundations (COF) released the newest edition of its State of Global Giving (Global Giving) report. The 2022 report focuses on data collected between 2016 and 2019 to provide "the latest perspective on how the nation's foundations are supporting critical efforts to improve health outcomes, address climate change, offer access to education, ensure human rights, and engage with a wide array of other global priorities." The report also features interviews with global funders such as Walmart, Global Fund for Children, and Citi Foundation to gain real-world insights into how critical challenges impacted foundations and where they see opportunities for growth and positive change.
Even if your organization focuses on domestic issues, reports like this help gain a sense of general funding priorities and trends in the sector. They can also give insight into how global crises such as COVID-19 impact giving overall.
The 84-page report may look daunting, but we are here to help! Keep reading as we break down the key facts and main takeaways you need to know.
How COVID-19 Changed Giving
Flexibility and Understanding
We have all felt the impacts of COVID-19 over the past few years, and the nonprofit sector is no exception. Foundations had to implement changes – and become more flexible – to work with nonprofit grantees on what they needed versus what the foundation wanted. According to Global Giving:
Funders provided exceptional giving to support immediate relief and recovery efforts; they sought to shore up longtime grantees to ensure they would remain viable throughout the crisis; they streamlined reporting requirements; and they did so while continuing to focus on their existing priorities.
One of the interviewees for the report stated that "I think the momentum changed rapidly from funder-driven mandates to what I'm going to call 'empathy.'" Another interviewee agreed, commenting that "Funders went from 'This is what we want' to 'How can we support you?'"
When asked whether these changes would continue, one interviewee said, "We're still learning and figuring out which changes will be short-term and which will persist and the total impact of the pandemic."
Shifting Communications
Like many of us throughout the pandemic, foundations, their grantees, and those supported by funding had to pivot to completely virtual communications to keep things running.
While some interviewees did not believe virtual communications could serve as a "perfect substitute" for field visits and in-person meetings, many still saw unanticipated benefits to the shift. One interviewee mentioned it allowed them to be more connected overall:
We're all having to build social capital on these technology tools. That means now I'm almost more connected and able to understand the perspectives of nonprofit leaders and advocates in a different way. Before, I had to travel somewhere to be able to do that.
Another interviewee also reflected that "with our global network and global community, technology enables much more equity in voices that we can bring in from all over the world to share."
Shifting Priorities
In their research, COF found that many foundations did not shift their priorities, but rather "the holistic impact of the pandemic heightened the need for resources across the priority areas in which global funders were already engaged." For example:
In the four-year period preceding the start of the COVID-19 pandemic, U.S. foundations…provided just over $1 billion in global giving focused on priorities that became especially acute with the onset of the COVID-19 crisis: food security, mental health, family and intimate partner violence, and distance learning and education technology.
Many interviewees also commented that the pandemic had accelerated changes happening within the institution. "From advancing racial justice and equity to localizing decision-making to ensuring the role of partners in agenda setting, multiple interviewees credited the pandemic with reinforcing the importance of these transitions."
Key Takeaways About Global Giving
Main Priorities
The Council of Foundations found that global giving varied slightly from domestic giving, with nearly half of all global funds given by U.S. foundations going towards health initiatives. As seen in the graphic below, "Global Giving by Issue Focus, 2016-2019," from Global Giving, other top issue focuses to receive funding included economic and community development, the environment, and human rights.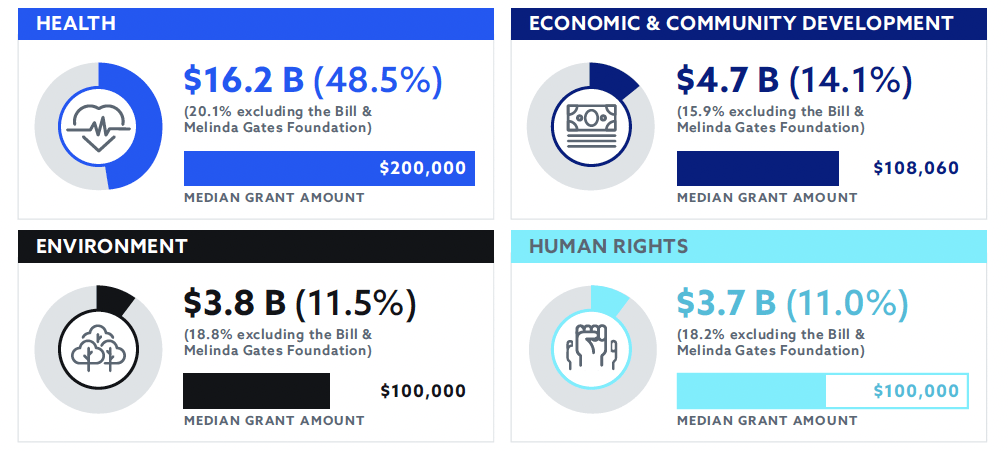 Overall, human rights projects and initiatives had the fastest growth between 2016 – 2019 compared to the 2011 – 2015 reporting period. Report authors contribute this to foundations prioritizing human rights as a primary issue or a secondary focus. For example, funding for the environmental issue focus might prioritize environmental justice for underserved populations impacted by climate change.
Main Strategies
59% of global giving from U.S. foundations primarily funded program development for specific projects or programs. Following program development, research and evaluation efforts "to discover, collect, analyze, interpret, and disseminate data, information, and knowledge" accounted for 31%. The chart below, "Global Giving by Support Strategy, 2016-2019," pulled from Global Giving, shows the additional support strategies and median grant amounts.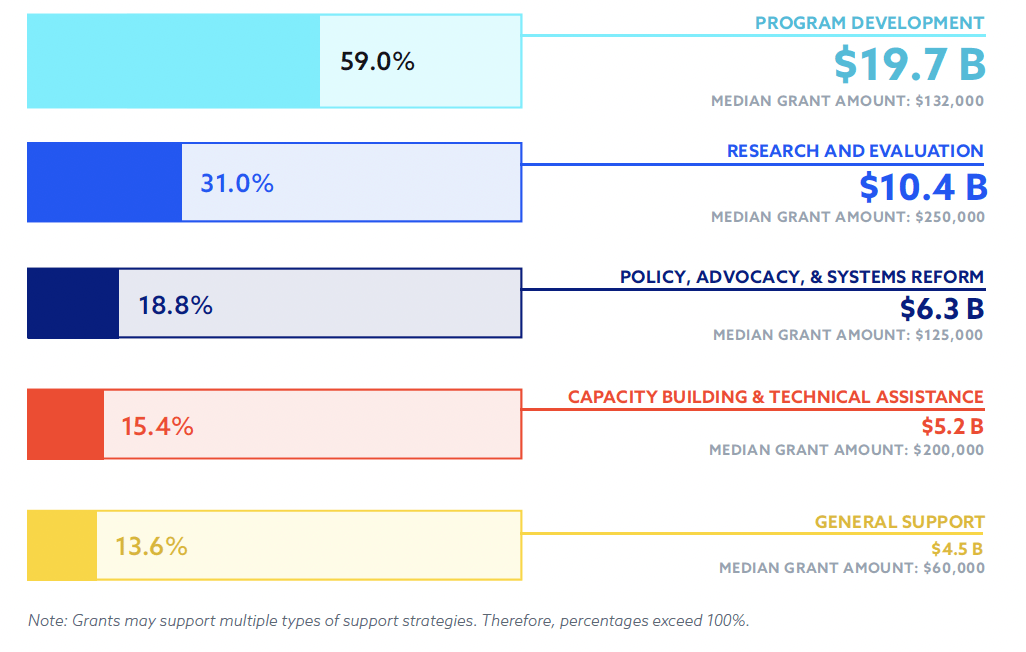 A Focus on Specific Populations
In their research over the past 20 years, COF found an increasing focus on grants prioritizing specific populations. For example, between 2016 – 2019, 79% of grant dollars and 73% of grants awarded focused on one or more specific populations, such as children and youth, women and girls, people with HIV/AIDS, migrants and refugees, indigenous peoples, people with disabilities, and LGBTQ people. The graphic below, "Global Giving by Population Focus, 2016-2019," from Global Giving, shows the top three populations to receive funding and the median grant amount awarded. However, the report authors noted that trends seem to be shifting, with grant dollars awarded to projects focused on children and youth declining and funding for women and girls and LGBTQ people increasing.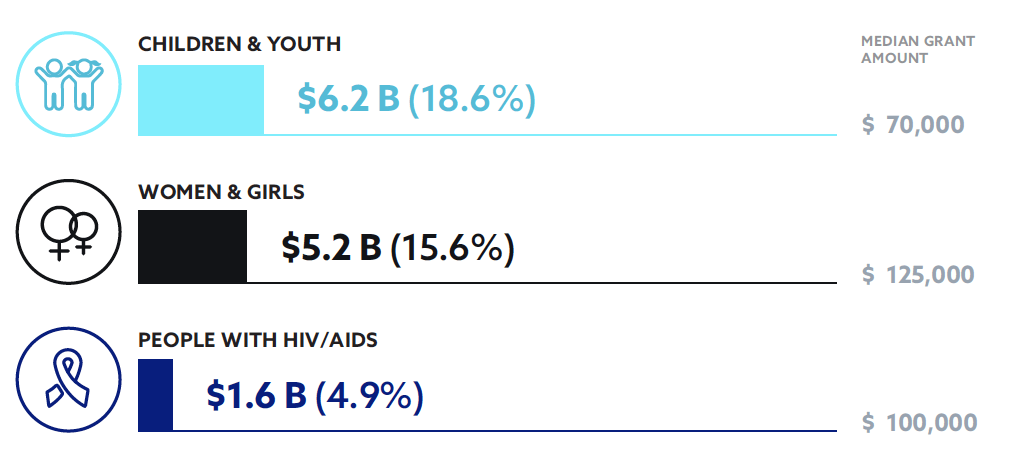 Does your organization need help navigating funding opportunities?
Contact The INS Group today to learn how we can help!