Subscribe Today
Get innovative nonprofit solutions delivered directly to your inbox via monthly blog posts and our quarterly newsletter.

A Decade of Collective Impact and its Shift to Centering Equity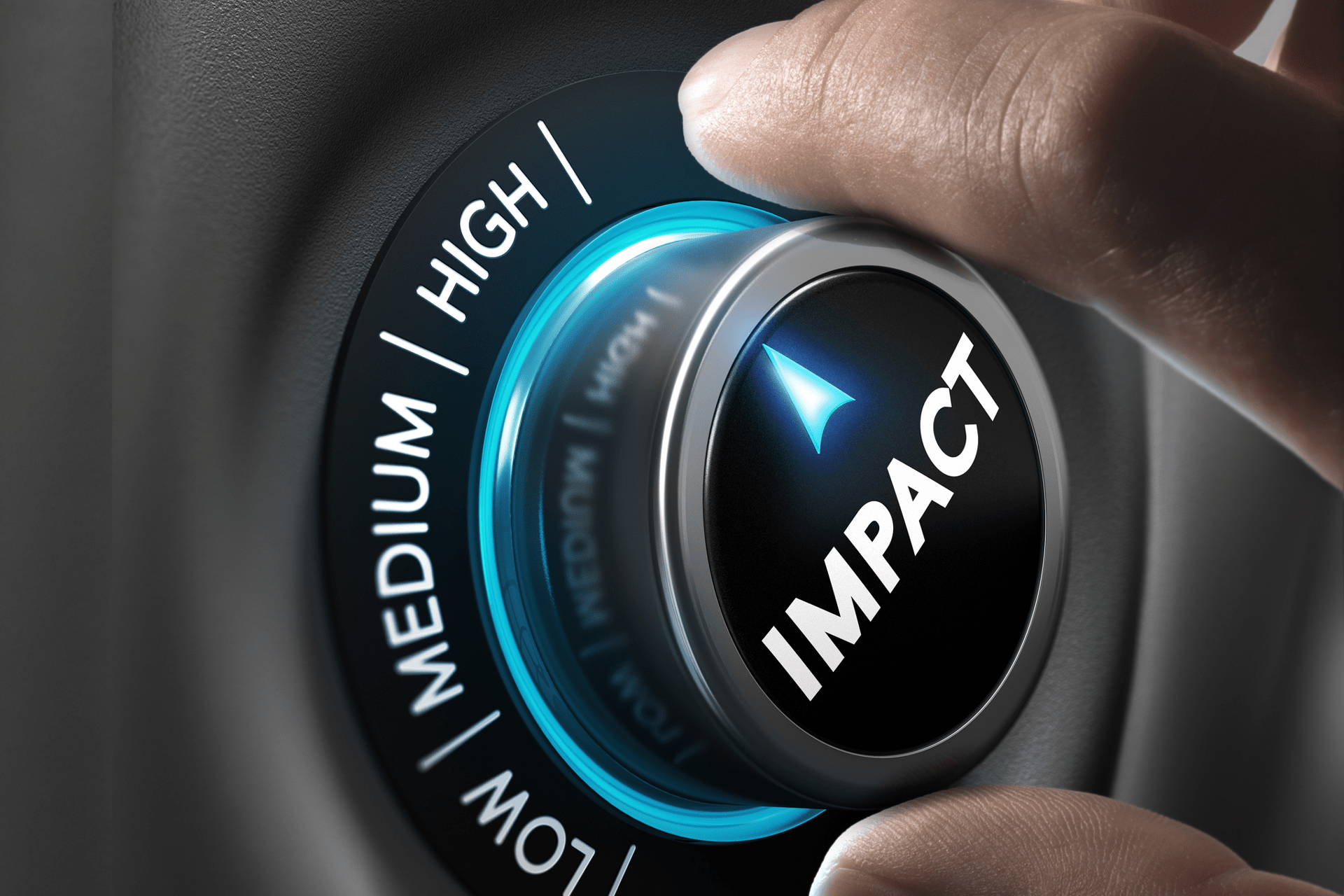 Collective impact is a strategy for tackling complex social problems. It involves bringing together diverse groups—including non-profit organizations and government agencies—to address a common challenge and accomplish collectively what they could not achieve individually. In this article, we will explore the history of collective impact, its development and evolution, and how centering equity sits at the core of a successful collective impact approach over a decade later.
The History of Collective Impact
While collective impact as a concept has existed for several decades, it was widely introduced and presented as a structured framework in 2011 by FSG managing directors John Kania and Mark Kramer in the Stanford Social Innovation Review (SSIR) article "Collective Impact."
In the article, Kania and Kramer discuss the need for deviation from the more traditional "isolated impact" approach, where nonprofit organizations work independently to find solutions with "the hope that the most effective organizations will grow or replicate to extend their impact more widely." The authors argued that complex social issues were not caused by a single organization or in isolation. Therefore, these complex issues should not be solved in isolation but by involving multiple partners and stakeholders.
To transition from isolated impact to collective impact, Kania and Kramer discovered that "successful collective impact initiatives typically have five conditions that together produce true alignment and lead to powerful results." These five core conditions for collective success are:
A common agenda – shaped by collectively defining the problem and creating a shared vision to solve it;
Shared measurement – based on an agreement among all participants to track and share progress in the same way, which allows for continuous learning, improvement, and accountability;
Mutually reinforcing activities – integrating the participants' many different activities to maximize the end result;
Continuous communication – which helps to build trust and forge new relationships;
A "backbone" team – dedicated to aligning and coordinating the work of the group.
The Evolution of Collective Impact
Since 2011, collective impact has become an important part of problem-solving strategies for many organizations to address a wide range of social issues such as poverty, health care access, education reform, and environmental sustainability. To further the use and effectiveness of collective impact, nonprofits FSG and the Aspen Institute Forum for Community Solutions came together to create the Collective Impact Forum in 2013. "The Collective Impact Forum provides resources, hosts events, supports peer learning, and offers coaching for people working to advance equity and achieve systems change using a collective impact approach to collaboration."
Many practitioners and collective impact networks have also refined and expanded on the five original conditions for successful collective impact. In 2016, SSIR, in collaboration with the Collective Impact Forum, published eight additional "principles of practice" for implementing collective impact, which included engaging community members, prioritizing equity, and placing a priority on community voice and leadership.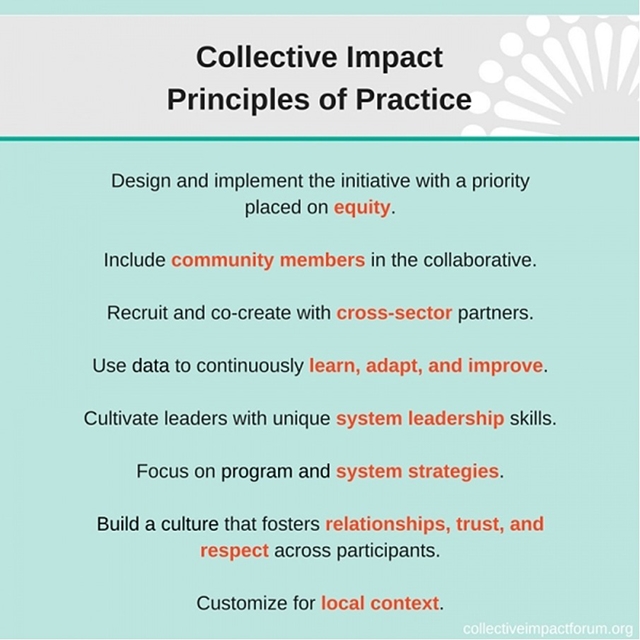 Centering Equity in Collective Impact
In 2022, the original authors of SSIR's "Collective Impact," along with Junious Williams, Paul Schmitz, Sheri Brady, and Jennifer Splansky published a new article, "Centering Equity in Collective Impact."In this publication, the authors reflected on the past decade of collective impact and observed that "the single greatest reason why collective impact efforts fall short is a failure to center equity." With this realization, they "redefined collective impact to include centering equity as a prerequisite."
Collective impact is a network of community members, organizations, and institutions that advance equity by learning together, aligning, and integrating their actions to achieve population and systems-level change.
 Without focused attention on equity strategies, collective impact initiatives will not be able to address the inequities at the root of the challenges they aim to solve. According to the authors:
Only when collective impact efforts take the time to understand who has been marginalized and why and how they are experiencing marginalization, and, after such investigation, take targeted action to create policies, practices, and institutions that address current and historical inequities, will these communities be liberated to achieve their full potential.
Therefore, the authors proposed a set of five strategies for centering equity:
Ground the work in data and context, and target solutions.
Focus on systems change, in addition to programs and services.
Shift power within the collaborative.
Listen to and act with community.
Build equity leadership and accountability.
The Future of Collective Impact
While we witness the growth of many collective impact efforts, there may be some challenges in building and sustaining this growth over time unless the practitioners actively work to center equity. Moving forward, equity must serve as a core component of collective impact efforts, and it is imperative that all participants have a holistic understanding of equity and how it intersects with their own work.
Does your organization need help developing a Collective Impact Strategy
to address a complex social issue in your community?
Contact The INS Group
today to learn how we can help!