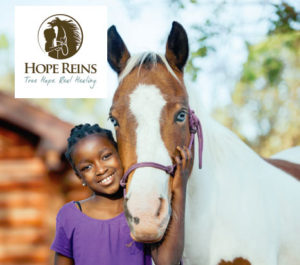 Many nonprofits have impact that is difficult to quantify. For example, how does an organization offering experiential learning programs for urban youth share the transformation and wonder that occurs when children learn outdoors? Or what about a nonprofit that puts incarcerated individuals and graduate students in the same classroom so they can learn from one another?
These stories deserve to be told—and they are essential for organizations seeking to fundraise and share their mission. In this article, Christy Burkey, Director of Marketing and Communications for Hope Reins in Raleigh, NC, shares some approaches her nonprofit takes when it comes to sharing their unique stories and programs.
1. Consider multiple viewpoints when telling a story.
Hope Reins is a 33-acre ranch that pairs hurting kids with horses to help them find hope and healing. The organization offers individual and group sessions with horses and session leaders, as well as summer camps, mentorship programs, and ranch fellowships.
"There are so many viewpoints you can cover," says Burkey. "A lot of times our session leaders will tell the story from their perspective. First person is great for storytelling, but so is the third person."
Hope Reins also shares their horses' stories, which can end up being an important part of clients' healing. "What happens is kids come out, and they've been abused, and we introduce them to a horse that was locked away for months without food. You tell the child about Freddy's experience. You show how Freddy now trusts and loves people even though he was starved and abused, and they connect with that," Burkey observes. "The child's story becomes the horse's story."
2. Let stories bubble up. "Families will seek us out and tell us what a difference Hope Reins has made for them, and they advocate for us," shares Burkey. One young client wrote a heartfelt letter to the organization about what the ranch had meant to him. But Burkey works to ensure that clients' confidentiality is protected at all times. "You have to get creative," she says. "Sometimes it's hard for kids to talk about their perspectives."
3. Encourage people to visit and experience your organization. "It's hard to know us until you come out to the ranch and meet some of the horses," Burkey notes. "We show visitors how we act, why we are here. We're here to serve and help clients get better. Are we therapists? No. We just welcome kids and facilitate a relationship between the horse and child. It's a platform for healing."
Click to learn more about The INS Group's marketing and communications services for nonprofit and faith-based organizations.