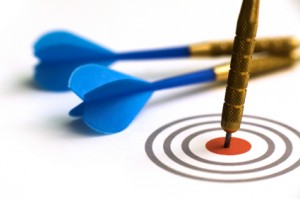 According to a study conducted by the University of Scranton and published by the Journal of Clinical Psychology in December 2012, 45% of Americans make New Year's resolutions. Though only 8% of those are successful in reaching their goals, the study also showed that people who explicitly make resolutions are ten times more likely to achieve them than those who do not proactively state their goals.
With that in mind, we've compiled a list of seven things every nonprofit should resolve to do each year.
1. While fresh in your mind, compile a list of your organization's key accomplishments the prior year. Include items such as major program activities, achievement of fundraising goals, event or membership participation statistics, and number of people served.
2. Update or, at a minimum, review your strategic plan. Given your accomplishments, are you moving in the right direction? Are the strategic goals previously set still valid? If not, it may be time to revise your plan. (Don't have a strategic plan? Get one!)
3. Assuming you've done 1 and 2 above, you know where you've been and you know where you want to go. Does your current staffing model support your plan for the upcoming year? Now is a great time to review and revise your organizational structure and position descriptions. Ask for staff input during this process and you're sure to learn a lot.
4. The very nature of nonprofits demands the ability to provide detailed financial reporting. Review your chart of accounts to ensure your accounting structure supports the capture and reporting of data as needed. Be sure to take into account not only what is necessary internally, but also what is required by grantmakers, auditors, prospective donors, and local, state and federal governments.
5. Revisit your acknowledgement letters. Many organizations miss this obvious opportunity to strengthen their connection with supporters, opting instead for boring tax receipts. Update your donor and volunteer thank you letters to include relevant accomplishments from the previous year, calling out how their contribution made them possible. Highlight upcoming events and engagement opportunities. And as boring is it may be, include the requisite charitable contribution statement for cash and in-kind donations so the letter can be used a tax receipt.
6. Review your technology to determine if it contributes to, or detracts from, your organization's productivity. Are your office computers outdated? Are you more than two versions behind the current operating system or software release? Even the IRS says the useful life of a laptop or desktop is three years. Resources such as TechSoup make it easy and financially feasible to keep your hardware and software current.
7. Speaking of technology, it's time to freshen up your website. Add prior year accomplishments, change photos used on the site, and bring staff and board biographies up to date. Verify resource listings and links to other sites, and update your wish list. If you have a donor recognition page, add the names of new donors. And don't neglect your calendar of upcoming programs and events; keep it current to ensure visitors to your site have the information they need to get involved.