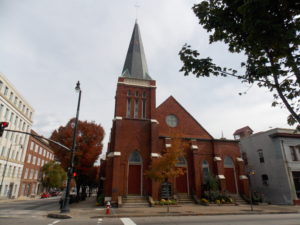 In early 2015, Dr. Dumas Harshaw, Jr. began to to realize that his church's congregation was changing. The pastor of First Baptist Church in Raleigh, North Carolina knew that his church needed a new plan for the future.
"I could see the generation that had been so strong in sustaining the church begin to die out," remembers Harshaw. "As that was happening, I saw we were also not bringing in people at the same level as earlier years."
But the church had no process in place for navigating such an uncertain future. After receiving a recommendation from a friend, Harshaw contacted The INS Group to create a plan that would allow the pastor and congregation to work together in finding a solution.
Over the next year and a half, The INS Group led First Baptist through significant strategic and leadership planning designed to facilitate communication and buy-in among members of the congregation.
"It was really well organized," says Harshaw. "Ruth outlined the path ahead and put together timelines and desired results. There was constant communication, understanding, and debriefing."
The INS Group also took steps to ensure that members of First Baptist's congregation were actively involved and informed throughout the process. Today, members of the congregation remain highly engaged. "So many people have participated in surveys and expressed their opinions in group meetings and signed up to be part of the implementation process," observes Harshaw. "New energy is beginning to emerge, and that's exciting. We have meetings every week."
Harshaw recommends that other churches struggling with change consider strategic and leadership planning. "All churches go through historical and spiritual processes. There will come a time when there will be changing of guard," he says. "Now we live in the atmosphere of a secular society, and it's reflected in church as well. Your church may need to go back to the table and ask, Why are we here? What are we doing? What message do we want to give to others? To stay vibrant and engaged and aware, you have to have someone from outside come in and raise some questions."
How does Dr. Harshaw feel about First Baptist's future today? "It's like a miracle to me. Where we are, it's simply an answer to a prayer," he shares. "We have longtime and newer members as well as members who have been here a while but were never involved. It's intergenerational and diverse." Today, Harshaw regularly recommends The INS Group's services to other churches. "Ruth brings a lot of professionalism and a high level of skills and resources. It was a blessing to find and work with her."
Is your faith-based organization considering a new plan in the face of change? Contact The INS Group to learn how we can help.