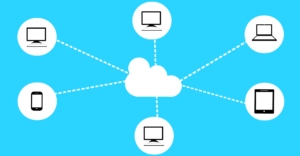 There are lots of reasons for organizations to move their operations to cloud computing—or Internet-based computing—including significant cost savings and increased collaboration. Take this quiz to find out if your organization is ready!
A answers are worth 1 point, B answers 2 points, and C answers 3 points. Add your points to find your results at the end of the quiz.
---
1. Does your organization pay for IT staff or consultants?
A. No, our IT services are donated
B. We pay a consultant for a set number of hours each month, but it's expensive
C. We have a full-time IT staff person
2. Is your organization's server located in a safe, air-conditioned room?
A. Not sure
B. Yes, but the room is also used for other things
C. Yes, the server has a safe, dedicated space
3. Does your organization currently use any cloud-based software, such as Google Docs, Salesforce, or Basecamp?
A. Not sure
B. We use some
C. Yes, our staff is very comfortable with cloud-based applications
4. Does your staff work remotely or collaborate digitally on projects with other organizations?
A. Not often
B. Sometimes
C. Yes
5. Do your staff have regular access to a reliable Internet connection while they work?
A. Not often
B. Sometimes
C. Most of the time
6. Do your staff use special software or programs (e.g. databases, design programs) that require a desktop computer or laptop?
A. Not sure
B. More than 25% of staff do
C. Less than 25% of staff do
---
What's your score?
6-10 points: Your organization isn't ready for the cloud—yet. It's time to take a thorough look at your organization's IT and computer needs. Going cloud based can provide significant savings, but if most of your services and equipment are donated in-kind, then there's time to wait as your organization grows.
11-14 points: Look ahead to the future. In many ways, your organized is primed for the cloud—you may already use some cloud-based applications or have a staff that is accustomed to working on complex projects with individuals in other locations. Some questions to consider: Will your organization continue to grow at its current rate? Does your organization have special software needs that can't be accommodated in the cloud at this time? Work with leadership to determine whether switching to the cloud might be an advantage for your organization in the near future.
15-18 points: Switch to the cloud! Your organization is ready. Your staff is digitally savvy and you need a safe place to protect your information. Have fun exploring the many cloud options out there!
Want to learn more organizational development strategies? Join The INS Group's "Unleash the 'Inner Fundraiser' in Your Board of Directors" webinar on November 8, 2017 (2 – 3 pm ET). Click here to register.