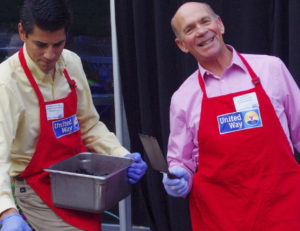 No matter their size, most nonprofit organizations rely on volunteers as an integral part of their success. From setting up tables at an event to organizing a 5K charity race on behalf of your organization, volunteers perform important tasks without the need to hire additional staff.
A well-run volunteer program is essential for recruiting volunteers, engaging them effectively, and keeping them invested for years to come. Here are several free digital tools that can help your organization make the most of its volunteers:
Evaluating your volunteer program. How healthy is your current volunteer program? Do you have a dedicated staff person or volunteer to manage volunteers? Small and medium-sized nonprofits often struggle to find the money or time necessary to create infrastructure and processes for a healthy volunteer program. But the investment is well worth it—remember that volunteers, in addition to giving their time, are public supporters of your organization and often turn into donors.
Learn where your program stands by doing a thorough assessment of your organization's capacity and goals. AGE UK offers a great assessment tool. While this resource was developed for nonprofits in the UK who recruit older volunteers, it's a great starting place for any nonprofit. If your organization focuses on food insecurity, Volunteer Match offers an online volunteer program assessment. This tool is particularly valuable because it provides personalized next steps based on your organization's goals and current volunteer program.
Sharing volunteer opportunities. Newsletters and social media are excellent places to share volunteer opportunities, especially time-sensitive ones. But many nonprofits have year-round projects for which they need volunteers. Idealist.org allows nonprofits to post unlimited volunteer opportunities visible to more than 1.4 million visitors a month. Better still, nonprofits can post opportunities in three languages, specify the number of volunteers and any special skills needed, and list opportunities that are available for several weeks or months out of the year. ActivateGood.org lets nonprofits post short- and long-term opportunities, and it also assists with volunteer management by sending reminder emails about volunteers who sign up.
Managing volunteers. Maintaining communication with volunteers and assigning them tasks are incredibly time-consuming processes. Fortunately, many programs make this work a lot easier with free or low-cost services. TrackItForward.com will let nonprofits with fewer than 50 volunteers track their time for free, with affordable pricing plans for larger numbers of volunteers. YourVolunteers.com offers the whole kit and kaboodle from volunteer scheduling to engagement, with a free cloud-based system and affordable paid options.
But the most important part of managing volunteers is ensuring you have established processes. Volunteer management comes with a fair share of challenges—including scheduling volunteers, thanking them, and even letting them go. Volunteer Match offers a wide variety of free webinars to help volunteer coordinators develop better processes, build their management skills, and tell the story of volunteers' impact. Learn more at learn.volunteermatch.org.
Thanking volunteers. Volunteers who don't feel appreciated are far less likely to give you their time (or money) again. Take the time to ensure that you thank volunteers for their efforts, whether that comes in the form of an email, phone call, or annual appreciation event.
Short on resources? Assign a program manager to personally thank volunteers before or after their work shift. Collect volunteers' email addresses and ask a Communications staff person to send an e-blast with a thank-you graphic after an event. Social media is a great way to share photos, tag volunteers, and publicly recognize companies or groups that send volunteers. Whatever you do, try to be timely with thank you messages—don't wait till National Volunteer Week/Month in April.
Canva.com is a free, easy-to-use graphic design platform that allows organizations to create thank-you graphics and save their brand's colors and logos. Create several generic templates that you can rotate throughout the year to send individual volunteers. For large groups, create a personalized graphic with a photo and the organization's name. These templates can be created by any staff person and then run by your nonprofit's communications department for approval.
These are just a few tools for getting started—the Internet is your best friend for finding new platforms and services that can bring your volunteer program to the next level. With time and minimal cost, you can develop volunteers who serve as longtime ambassadors and funders of your organization's mission.
RESOURCES