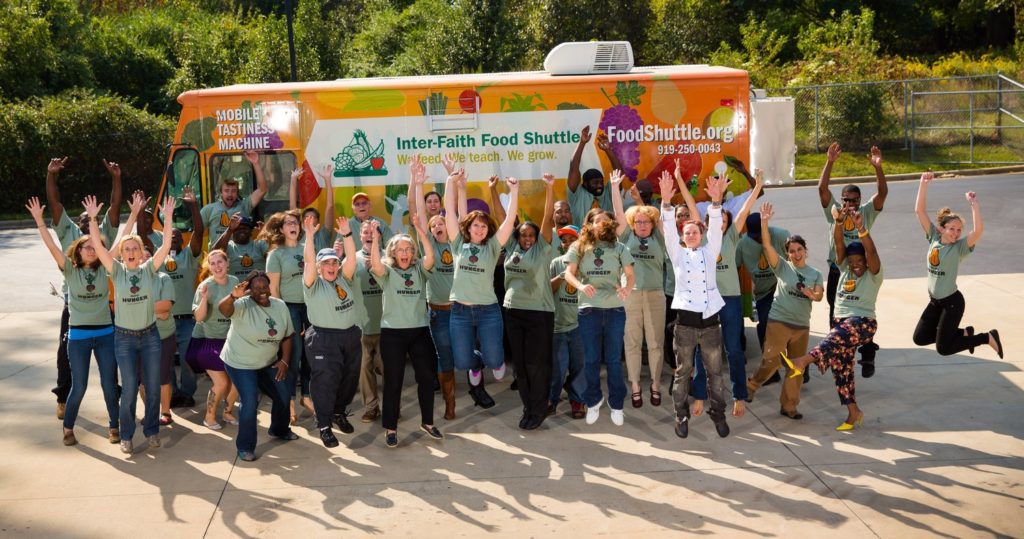 The Inter-Faith Food Shuttle launched in 1989 with a simple observation: edible food was being thrown out by food vendors instead of making it to the hands of the hungry. Twenty-eight years later, the Food Shuttle has evolved into into a thriving nonprofit that recovers over six million pounds of food a year across seven counties in North Carolina, with various programs designed to break the cycle of hunger.
How did the Food Shuttle grow from a grassroots effort to an inventive powerhouse tackling hunger across the state? The INS Group sat down with Executive Director Dave Koch to learn more.
"When Jill Staton Bullard and Maxine Solomon founded the Food Shuttle in 1989, the focus was around the recovery of food being thrown out from local restaurants and grocery stores," says Koch, who joined the organization in January 2016. Today, the organization feeds 60,000 people a month and offers a number of educational and community food programs designed to "feed, teach, and grow."
Key partnerships and strategic planning helped fuel the Food Shuttle's growth over time, says Koch. After joining Feeding America, a national network of more than 200 food banks, the Food Shuttle was able to benefit from relationships with Walmart and other grocery store chains to recover large amounts of perishable food. "That enabled a lot of growth in terms of volume collection," notes Koch.
However, former CEO and co-founder Jill Staton Bullard made sure to create other pathways for growth during her 26 years at the Food Shuttle—primarily through the creation of inventive programs designed to meet community needs. Today, the Food Shuttle's Culinary Job Training Program offers 11 weeks of classroom learning and hands-on kitchen experience for participants, 70% of whom find a related job within 18 months. Meanwhile, Catering for a Cause provides affordable catering services to nonprofits, and the Food Shuttle regularly prepares meals for soup shelters, summer camps, and other programs. "We are a nontraditional food bank," observes Koch.
Koch hopes that the Food Shuttle will increase its impact in the coming years by expanding programs within all seven counties it serves. (Currently, 80% of its services are in Wake and Durham Counties.) He would also like to expand programs targeting two vulnerable populations: children and seniors. "Our most impactful service is child hunger programming—Backpack Buddies and school pantries," says Koch. "We deliver 2,300 backpacks each week during the school year, but there's such a tremendous need. We could easily double, triple the number of backpacks we deliver."
After 34 years in the corporate and nonprofit sectors, Koch is well accustomed to watching organizations change over time—and he has plenty of advice for nonprofit leaders. "Financial stability is always the key to an organization's stability," he observes. "Too many nonprofits get dependent on grants that are time limited and potentially take them places they shouldn't be." Koch also argues that it is critical for nonprofits to develop long-term strategic and funding plans. "Nonprofits, to be really viable, need to have a source of revenue generation that supports their mission," he says.
Is your organization ready to plan for the future? Contact The INS Group to learn more about our strategic planning services.