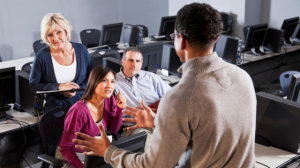 Nonprofit leadership capacity building has traditionally required travel, dedicating time and money to take part in costly retreats, workshops, seminars, etc. in an effort to develop skillsets valuable for the organization. With limited time and funds, this often means that engaging in capacity building events is limited for most nonprofits. However, the Internet has connected the world in a way in which these valuable resources can be shared amongst industry leaders even when living hundreds of miles apart.
It is recommended that you commit yourself to active education in 2013 and to stay current on the latest trends happening in the nonprofit sector. There are many ways to stay informed, including the following:
Tuning in to online webinars discussing topics relevant to your organization.
Podcasts are also a great way to hear information and can even be downloaded on to an MP3 player and listened to in your car.
Mobile applications, such as the Nonprofit Manager's FAQ Mobile App and others can be downloaded for free onto your smart phone, allowing you to access answers to questions on the go.
Industry books containing the newest information are frequently published. You could choose to join a group like the Nonprofit Community Book Club which gives 40% off the list price of promoted books to members. You can also participate in author-hosted discussions about the material.
Going to traditional conferences and retreats is still an excellent way to learn, but if time or finances are limited, there are often web-based attendance formats for many of the larger training and research-related events. Websites like www.nonprofitwebinars.com allow you to browse a list of potential topics and register to attend upcoming online events.
You are invited and encouraged to join The INS Group for the next in our series of webinars: "The ABCs of Federal Grants" on May 29th and "The Secret to Special Events Fundraising" on June 26th.  Details and registration information can be found here.