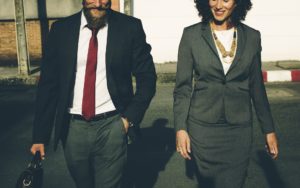 For nearly two decades, Band Together has carried out a unique mission: using live music to raise funds and awareness for local nonprofits. Since 2001, the organization has helped its Triangle-area nonprofit partners fundraise nearly $8 million, in the process transforming itself into what it calls a "philanthropic machine."
Earlier this year, Band Together's longtime Executive Director resigned, leaving the organization without a leader. Below, Robert Ramseur, Jr., President of Band Together's Board of Directions, describes five steps that helped the organization find the right fit.
1. Create a formal succession plan or take foundational steps for long-term planning. Band Together's Board of Directors didn't have a succession plan in place when their ED gave notice—but they had already taken early steps in planning for the future. "Several years ago, we created a strategic planning committee within the Board that looked at who we were as an organization and compiled information from partners and stakeholders," remembers Ramseur. "That information helped steer the hiring process."
2. Examine your organization's mission and priorities. "Define the mission of the organization first, perhaps even conduct a long-range planning session with the Board," suggests Ramseur. "We made sure we had a really good handle on our mission and where we wanted to go as an organization before we started looking for our new leader."
3. Have the Board take ownership of the hiring process. Band Together's Board of Directors split into three subcommittees: one to create the job description, another to review résumés, and and a third to conduct interviews. "We had the job description for our first ED, but after reading through it, we realized it needed to change," says Ramseur. "We took a lot of time to examine the role of the ED and think about what we wanted in somebody. It was a pretty interesting process because we found out we were looking for something different than what we originally thought."
4. Take advantage of outside resources and expertise. Before starting interviews, the Board consulted with an HR professional who gave a seminar on the interview process. "That was really valuable because what we ended up doing was defining the questions we were going to ask," says Ramseur. "We honed in on who we are as a organization, what we were looking to do, and who fit our mission." Ramseur also attended a nonprofit board governance course at Harvard Business School. "I came back ready to charge ahead because the Board had had all these discussions about succession planning but we just didn't have anything formal," remembers Ramseur. "By the time I got back, we got the announcement that the ED was leaving."
5. Take your time. "It was very lucky we did not fall into the trap of moving too quickly to hire someone and ending up with wrong person," reflects Ramseur. "Prior to doing that soul searching exercise, we had identified a number of candidates we thought would be a perfect fit for us. But after we put the hiring process into motion, we realized we were looking for someone different." Ramseur recommends that, when possible, organizations not set deadlines around making a hire. "The only deadline we had was a résumé cutoff so we could get people off the fence," he says. "We wanted to find the right person and it didn't matter to us how long it would take. We ended up hiring our new Executive Director in less time than I expected."
Is your organization looking for resources related to succession planning? Contact The INS Group to learn how we can help.